SoftwareOne labelled its UK arm a "standout performer" in its latest quarter, even as it cut its overall annual growth guidance amid "increasingly volatile conditions".
Here are the top 5 key takeaways from the results, which cover the SIX Swiss-listed software licensing outfit's Q3 ending 30 September 2023.
1. Growth guidance cut
A stalled recovery in its North American operation – and an "increasingly volatile geopolitical and macroeconomic conditions" more generally – prompted SoftwareOne to take a scythe to its growth outlook for the year.
The Switzerland-based software licensing giant now expects revenues to advance by "high single digits" in full-year 2023, compared with its previous guidance of low double-digit growth.
North American revenues rose 4.7% in Q3 as "the tentative recovery we saw in Q2 stalled", CEO Brian Duffy said on an earnings all.
Although Europe – which represents 61% of the business – remained "resilient" in Q3, with revenues up 9.6%, SoftwareOne is not expecting a "normal budget flush" in the region in Q4 "in light of the overall environment", Duffy said.
SoftwareOne's total revenues rose 8.4% to CFH233.4m (£211m) in Q3, with adjusted EBITDA up 14.1% to CHF47.9m. Note that the strong Swiss Franc contributed over four points of growth to the numbers.
2. But UK hailed as standout performer
EMEA growth was driven by "strong performances" in the UK, the Netherlands and Spain, Duffy said, with the former generating growth of around 30%.
This mirrors the stellar growth seen by UK-only software licensing peer Bytes in its latest results.
"The UK clearly stood out this quarter with a stellar performance, strong growth of around 30% and a number of key wins across the portfolio, which illustrates the headway we are making in this key market," Duffy said.
Duffy added that the UK saw strong growth around its SAP practice, which is built partly on 2021 acquisition Centiq.
3. 'Mid-teens' growth expected in mid-term
Although the "mixed outlook" prompted SoftwareOne to chop its 2023 revenue guidance, its mid-term guidance of "mid-teens revenue growth" remains unaffected, Duffy stressed.
"I remain confident of the long-term growth opportunity in software and cloud," he emphasised.
4. Strategic review 'proceeding as planned'
SoftwareOne was last month reported by Reuters to have received approaches from multiple private equity houses after launching a strategic review in July.
It decision to review its options came after it snubbed two takeover approaches (the second for $3.7bn) from private equity house Bain Capital.
Without offering any colour on its progress, Duffy said the review "is proceeding as planned".
"The board continues to make significant progress in evaluating various options for value creation, including continuing to operate as a public company, a merger or a sale of the company, as well as other possible strategic transactions," he confirmed.
5. $100m Copilot goal hinges on midmarket availability
SoftwareOne had previously identified a $100m opportunity around Microsoft Copilot, whose launch date was brought forward to 1 November by Microsoft.
How soon SoftwareOne can realise that hinges on how quickly Microsoft makes Copilot available to the midmarket, Duffy said.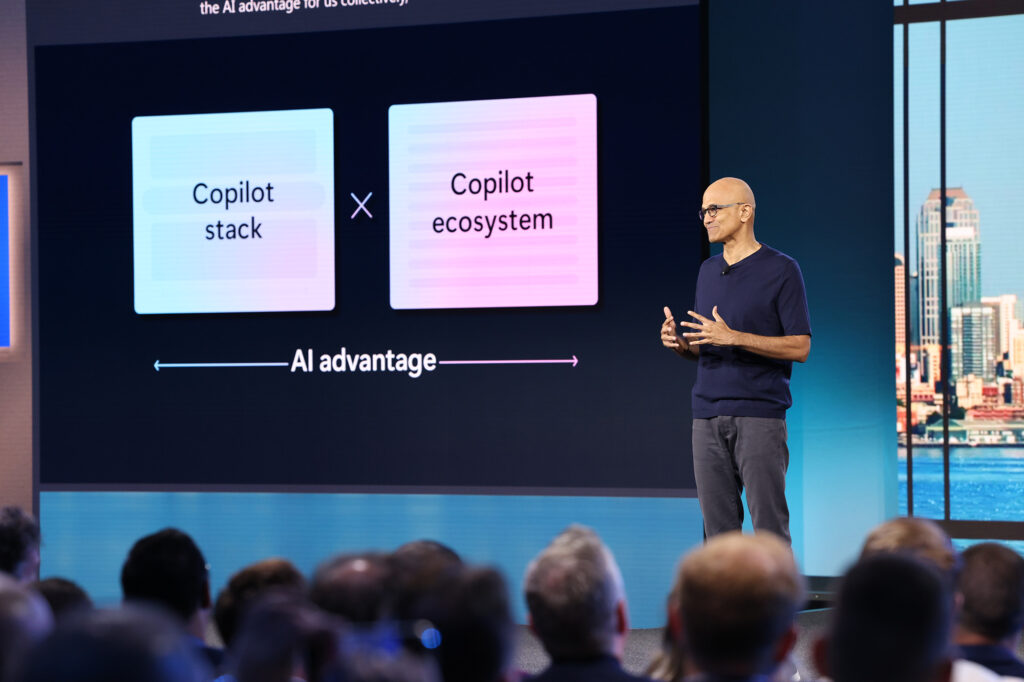 SoftwareOne is currently running a large-scale ad campaign in the London Underground highlighting the use cases around Copilot, Duffy emphasised, adding that the firm has 250 data and AI experts and 800 clients already using data and AI.
"We've had a strong reaction from customers in terms of the demand for [Copilot]," he said.
"We are waiting for Copilot to make its way into the midmarket, which given the release cycles of Microsoft will take a little bit more time. However, that doesn't stop us engaging with our customers around workshops to explore how they can best leverage Copilot.
"My own personal belief is that employees will come to expect the same experience in the enterprise as they have in their private lives. This will put the demand on Microsoft and other organisations to make these products available in early 2024."
The contribution of data and AI to SoftwareOne's results is "still small", Duffy conceded.
"[But] the projects are becoming larger, the appetite is becoming larger, and the pipeline is exponentially growing in this space," he concluded.