Specialism: Intelligent automation
Key vendors: Workato, M-Files, Kofax
Revenue: £3.9m (+27%)
Staff: 17
Founders Ben Nilsson and Edd Nicklin set up Virtuoso Partners in 2018 after identifying a lack of fulfilment capabilities around intelligent automation technology among incumbent IT distributors, despite rising end-user demand.
It saw gross sales rise by 27% to hit £3.9m in calendar 2022, according to numbers it shared with us.
"I commute to the office by longboard every now and then"
Quickfire Q&A with Director Ben Nilsson (pictured below, right, with Nicklin)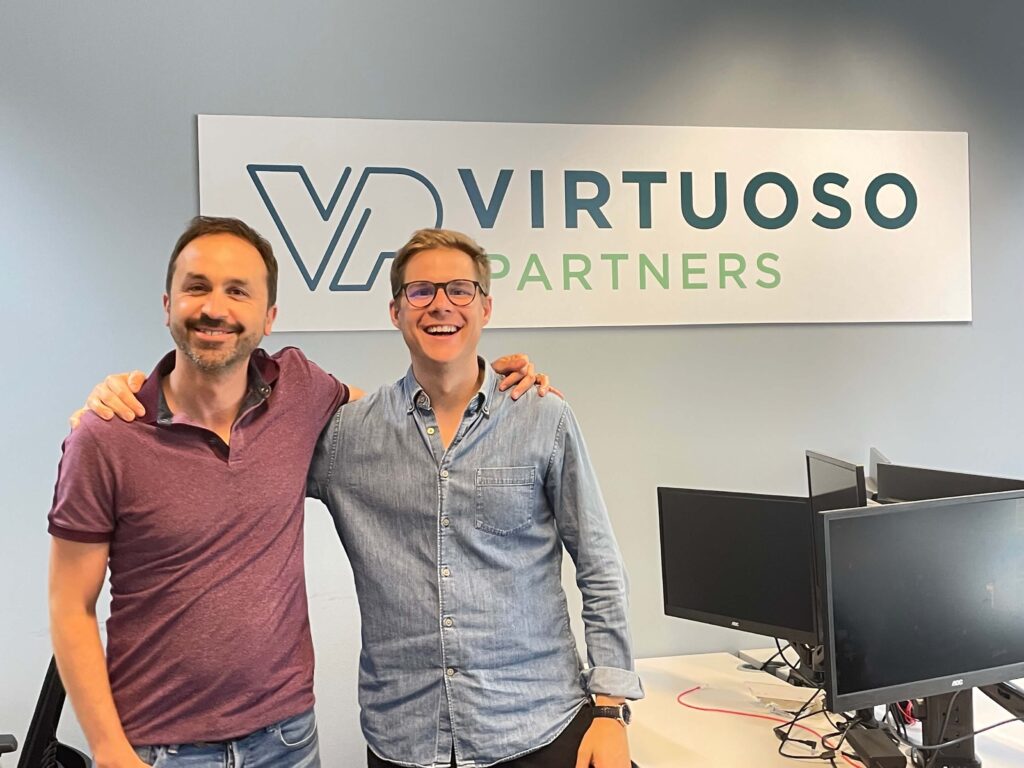 What's an obscure fact about Virtuoso, or you personally, most people won't know?
I commute to the office by longboard every now and then, occasionally resulting in bruised limbs and ego. We encourage sustainable modes of transport to the team so why not show some leadership?
Just how tough is it in the market right now?
We're finding it pretty good to be honest. The nature of the technologies we distribute aligns well with delivering operational efficiencies in client businesses and IT departments. The tech that automates and creates efficiency will always qualify for budget if the business case is strong. We're laser focused on supporting VARs in building rock solid business cases for our tech so in this way we're finding the market to be good. It's not amazing but far from poor. Compared to the pandemic there's far less uncertainty and so the business cases are converting to orders quicker.
What bright spots are you seeing?
Generative AI has really inspired VARs and partners to explore the potential of AI and automation, making it a key objective for lots of clients to understand and adopt these technologies (either through opportunity or fear of disruption). The upside for us has been a dramatic increase in lead intake as our solutions portfolio is heavily focused on intelligent automation and we distribute some powerful solutions that easily help clients leverage and integrate generative AI in practical use cases.
What's been your high point of the last 12 months?
We're starting to see the work we put in building our distribution messaging and pivoting our marketing towards iPaaS with Workato pay off massively. The iPaaS category is booming and we're seeing a massive lead intake from our big VAR partners. We made a bet that this technology (Workato specifically) would start to overtake RPA as end customers look to automate more with API first strategies, it seems we were right. Workato made leader in Gartner MQ and Forrester Wave reports in 2023 which proves we're picking the right ISVs to distribute.
Name one thing Virtuoso does better than anyone else…
It's our professional services delivery for our resellers. It starts with supporting our partners with genuinely consultative pre-sales advice and demos. If follows with designing, implementing and providing managed services that means our resellers can solve more of the end customer challenges under one roof. We don't see that as much elsewhere and typically the reseller has to go and enroll other specialist consultants to actually deliver automation technologies properly which can be a real headache.
What's been the biggest development or news story in UK IT distribution so far in 2023?
Sadly, not the most positive of developments but arguably the biggest has to be the layoffs in distributors we've seen throughout 2023 in distribution as pressure mounts to reorganise, improve processes and drive down overhead. It emphasises the need to build new value streams and revenues to offset reduced margin trends from vendors with the move to cloud.
Which technology area or vendor are you betting big on for H2 2023?
Workato with their no-code integration and automation platform (iPaaS). It's a big area we are focusing on at the moment. This bet is paying off well already and we're uniquely placed to help them and our resellers realise sales with our skilled team.
The analysts see distribution becoming increasingly characterised by cloud and marketplaces. Is that reflected in the evolution of your own business?
Given we're a relatively young business we've only known working with cloud and marketplaces so I wouldn't say it's impacted our evolution as such; we were born in this.
Can you give us a prediction on how the distribution sector will evolve over the next 12 months?
More emphasis on the 'value' in VAD. ISVs will expect more real value from distributors as some ISVs in the intelligent automation space pivot from direct sales focus back to channel and 'co-sell' models. This will highlight resource gaps and true VADs will be able to create new service revenues and protect margins through a focus on pre and post sales excellence.