IT spending via partners will grow by 3.7% in 2023, outpacing the 3.5% growth the wider IT market will experience, Canalys has forecast.
Partner-delivered IT technologies and services will top $3.4tn this year, accounting for 73.1% of the $4.7tn total addressable IT market, the analyst asserted as it urged vendors to hone their partner strategies.
In contrast, vendor-delivered IT technologies and services will grow by a more muted 2.9%, and will account for 26.9% of total IT spend this year, Canalys said.
There was further good news as Canalys cautiously predicted that IT spending will rebound in 2024.
Spending slowdown
The picture for 2023 is more mixed, with a range of headwinds blunting any growth in spending generated by long-term 'mega-trends' such as generative AI, digital transformation and sustainability, the market watcher said.
Cybersecurity and network infrastructure will remain among the hotspots, growing by 11.1% and 13.9% to $79bn and $72bn, respectively, Canalys said.
IT services spending will swell by 7.5% to $1.5tn on the back of public cloud optimisation, cybersecurity posture transformation and business adoption of generative AI, it claimed, with cloud application software spending set to rise 19.3% to $215bn.
Sales of servers, storage and client devices will be flat or down this year, however, Canalys warned.
By region, North America is set to endure the slowest growth in 2023 at 2.8%, with EMEA growing 3.4%. Asia Pacific is forecast to grow 4.5% and Latin America by 3.0%.
But there are already "early signs of improving demand" for the second half, Canalys noted.
'Exciting future'
The pendulum has seemingly swung from direct sales towards the channel in recent months, with Dell and Rapid7 among those shifting more work to an indirect model as they cut internal staff.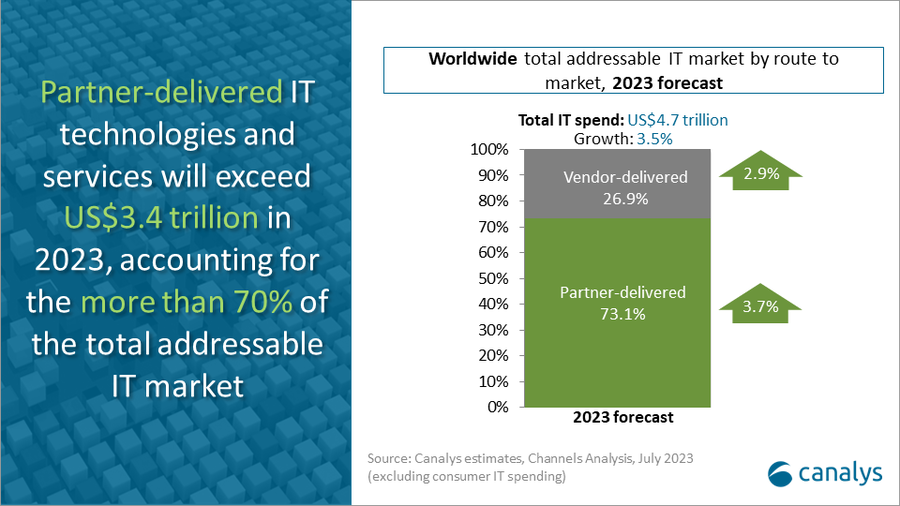 Canalys Chief Analyst Matthew Ball claimed that the channel has an "exciting future ahead", predicting that the sector will double in size over the next decade.
"Given the importance of the channel, the success of vendors will increasingly rely on their resell, co-sell, co-marketing, co-retention, co-development and co-innovation strategies," he said.
Looking at the overall IT market, growth will "rebound" in 2024 as end user organisations accelerate investments in tech refresh and push ahead with delayed projects, the market watcher predicted.
Its initial forecast of 6.9% IT spending growth for 2024 would push the total above $5tn for the first time.