Marketing agency Sherpa is looking to "break the cycle" of Pareto's Law with its new AI partner performance platform, EdisonAI, its CEO has told IT Channel Oxygen.
By applying AI to a combination of sales, partner relationship management (PRM), MDF and learning management data, EdisonAI is designed to unleash latent potential within a vendor's long tail of partners, Tom Perry said.
An algorithm helps vendors allocate MDF based on each partner's performance and potential, rather than their size.
The product is already being used by around ten vendors, Perry confirmed.
"We have five or six data feeds for EdisonAI that are all from the client. The job it does is to aggregate them down," Perry told IT Channel Oxygen.
"It's got some very clever AI that builds a visualisation and shows you which partners to invest in, which are ready for acceleration, which ones need to be left alone because they are never going to perform, and which ones you should focus on training before you put the money in.
"Vendors were saying to us, 'I need to recruit more partners; can you help us with that'? And I would say 'have you looked at the gold in the hills and considered the latent opportunity within your current channel?'.
"What we're trying to break here is that 80-20 cycle – Pareto's Law. We think about the other 80% of partners that could do more revenue and could be the partners of tomorrow."
Bringing science to partner performance
EdisonAI is also an attempt to bring the science and data-led approach many vendors already apply in direct sales to the channel, Perry said.
"On the direct side, a lot of tech businesses mine data lakes and have huge operations there, but that hasn't materialised in the partner space," he explained.
"We looked at it and saw a gap. And that gap is that we can take all the data relating to partners, apply some AI to it and tell a story.
"There have been a couple of really great instances where we've shown the data from Edison to channel sales people in the field and they've said 'where have you got this from; we've never seen this data?' We're retelling their story to them in a very different way."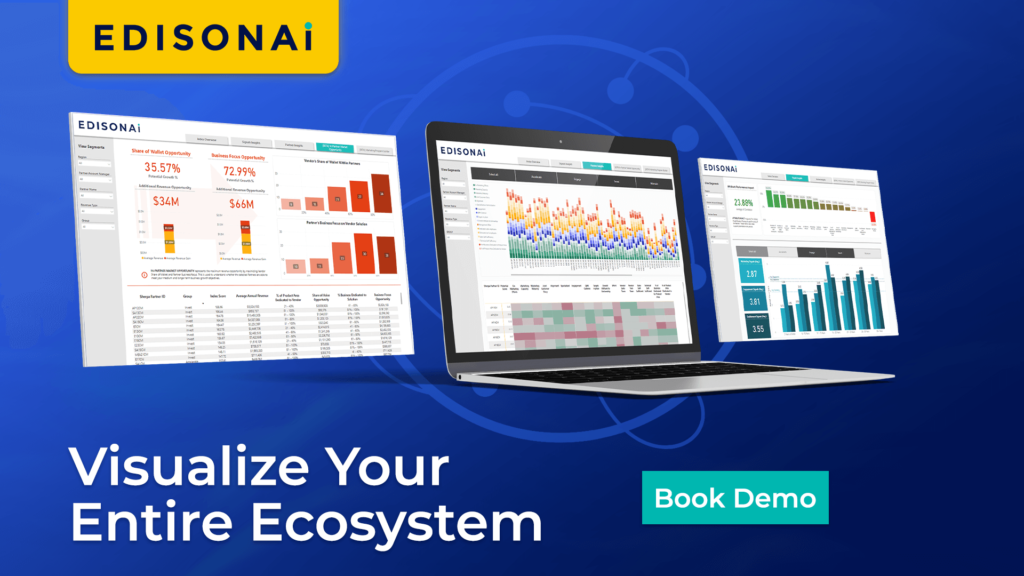 According to Canalys the burgeoning PRM space is set to almost double in size between 2022 and 2028, to $1.4bn, with Impartner and Zift Solutions among the key players. The wider channel software market was worth $5.3bn in 2022 and will hit $11.8bn in 2028, the analyst added.
Edison AI sits parallel to the PRM space, taking the data from several PRM systems as well as CRM, learning management platforms and MDF systems.
"I think we're more akin to a Tableau or a data analytics company, but it's partner analytics. The space is partner performance and analytics. But if I said that to Gartner, they'd look at me as if I had three heads, because the category doesn't exist," Perry said.
How far will it go?
Does Perry foresee a future where data and AI governs all bets vendors make on which partners they back?
"I don't think the relationship will ever go away, but I think there's going to be a lot more science," he replied.
"The reason the timing is so right for the science part is that there's now a big CFO spotlight shining on the channel and partner community – way more than there used to be.
"The relationship is always going to be key, as it's still human to human. We're putting in place some science behind that on how to invest in partners, how to measure them and how to predict their growth. But vendors might do nothing with it. If the channel programme [is not up to scratch], how are they going to change? So it's up to the vendor to act."
Understanding that there is now some science behind the investment a vendor is prepared to make in them will also be welcomed by most partners, Perry claimed.
"This is hugely beneficial to a fast-growing, switched-on MSP, or a really great VAR who's got a good marketing organisation," he said.
Founded in 2013 by former ShoreTel EMEA marketing director Perry, Sherpa gradually moved into partner assessment via a few ad-hoc service engagements with vendors. EdisonAI builds on this by productising the offering.
"A data-driven channel agency is very different from a normal channel agency that's knocking out MDF campaigns," he concluded.