Distology CEO Hayley Roberts has opened up on her mixed views on the current narratives around women in tech, as she gave an update on the VAD's international expansion progress and investment priorities.
Roberts has emerged as a high-profile advocate of attracting more women and people from diverse backgrounds and other walks of life into the IT channel, arguing that the industry is limiting its potential by "fishing from the same pool".
She helms one of Europe's fastest-growing cybersecurity VADs in Distology, which acquired its way into Germany in 2022 after snaring private equity investment from NorthEdge the previous year.
Talking to IT Channel Oxygen, Roberts said Distology will launch a new German team in October following the completion of its integration of Squareball, which has now been rebranded 'Distology Studios'.
'I keep getting told to put my seatbelt on'
Berlin-based Okta and Auth0 partner Squareball took a "good year" to "bake into" Distology's offering, she admitted.
"Even though culturally we were quite alike, it's taken a long time to get what is a really interesting engineering business and build it into a proper service value proposition for us," Roberts said.
"We're now starting to see that growth in the services packages we offer and that consultative approach. The skills sets we have in the Distology Studios team are totally different from just deployment engineers. We have UI/UX capabilities. They understand it from the end-user customer journey point of view."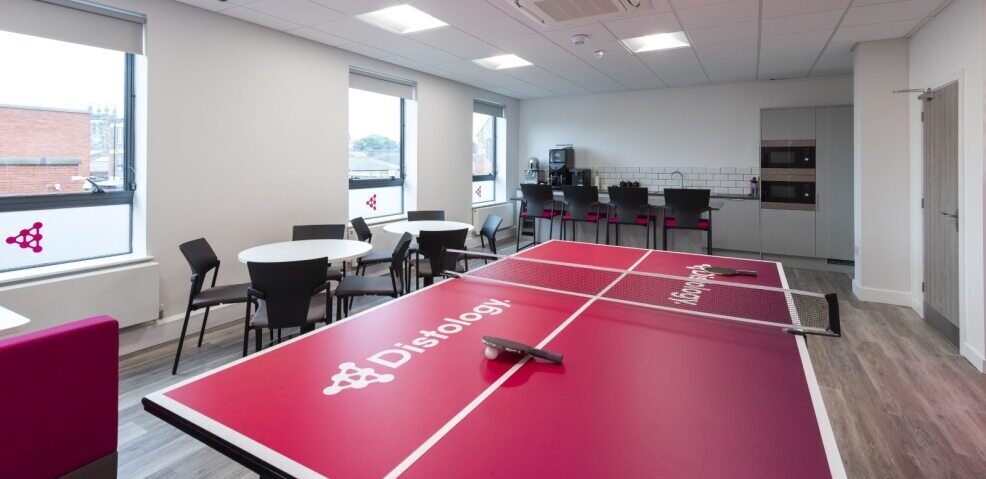 Stockport-based Distology also has an Utrecht office that serves the Benelux and is about to launch a German commercial team.
But Roberts said she has reined in her desire to expand further internationally until Distology has perfected its "blueprint" in existing territories.
"I'd love to expand more internationally, but keep getting told to put my seatbelt on by various people on the board," she said.
"However, I do believe we have to get what we're doing right before we start to move on. There's no point in just land grabbing for the sake of it. If we get it right in the areas where we operate now, especially across Europe, we've got more of a chance of getting that blueprint to work in other areas when we do start to move outside of Europe – maybe in the US or maybe other areas."
OT opportunity
Roberts highlighted operational technology cybersecurity as a growth hotspot in her Q&A for Oxygen's Top 45 must-know UK IT distributors (in which Distology ranked 22nd).
"It's almost like a retro-fit," she explained.
"People have got all this machinery or building management tools, or assets and equipment, and now they're digitalising it, [they're realising] that it's a vulnerability that they need to control or secure. Although it's not a new thing, that's why it's coming to the foreground, which is exciting."
Offering better to support to MSP customers is another priority, Roberts revealed.
"We can't ignore the fact that managed services partners are going to be needing a lot more from where we sit as a distributor," she said.
"I have to address that. When you look at what MSPs have access to now and the last few years, it's been mostly transactional, large vendors. How do we get the really cool tech and disruptive tech out to MSPs that's easy for them to sell and deploy to their end users? Those are the things we're looking at."
'The best thing I've ever done'
Despite private equity's mixed reputation, bringing NorthEdge on board was "the best thing I've ever done", Roberts declared.
Although PE money has been readily flowing into MSPs over the last five years, investments in distributors have been rarer, with Distology – along with Infinigate (and more recently Intec Microsystems) – among the few that are private equity-owned.
"Sometimes you need another body to be confident in your abilities as a business. It just gives you that level of positivity you need to take more risks and be bold enough to make changes – like a new office or investing in an exec team," Roberts said.
"I had a really negative view of PE before I actually opened the door and started to look at it.
"It was the people I bought into at NorthEdge, and that will remain the case whatever journey I go on."
And it is the people – along with the evolution of the role of distribution – that Roberts says motivates her at Distology above the technology it carries or revenues it hits.
"I got sucked in [when I saw Distology were number 22] and thought 'this is excellent'. That's great, but if I allowed myself to focus too much on that my focus would not be on the vision of creating something different and exciting. That's what we're in it for, and that's what the exec team all share.
"I don't care about big houses and *****-waving bulls**t. I care about what difference we're going to make to the next generation.
"You've got to keep changing and pushing the boundaries. And those that obsess about being the biggest, that to me is not interesting. We're trying to make a difference and create something that's not just for transactional purposes, but is creating opportunities for people to excel and grow and develop. That's where I focus."
'I don't get imposter syndrome'
Roberts has spoken passionately about the need for the IT channel to widen its talent pool, but admitted she had mixed feelings about the current narratives around women in tech.
"I don't get imposter syndrome," Roberts said.
"I think it's a narrative we tell ourselves because it gives us an excuse. The world is an open book. If I was born 100 years ago I would never be able to sit in the chair I'm in now.
"So get rid of that antiquated view that this is an excuse or a label or millstone. Because by the time you've come to terms with that you could have been down the road doing some great stuff. So don't let any of that hold you back."
"I don't believe that women as a gender are being mistreated in the way the media [suggests]," she added.
"We have to take some ownership now in every diverse group about how we can utilise this opportunity for growth, rather than to tell the story to curry favour or sympathy, to have a door opened for us.
"We have to open that door."