Specialism: Cloud, comms and IT
Key vendors: BT, Microsoft, Vodafone, O2
Revenue: £360m (+56%)
Having rebranded all three of its businesses under the Giacom banner on 1 July 2023, this cloud and comms specialist is now a top 10 UK distribution player, according to our calculations.
The enlarged business – which spun out of Daisy in 2021 – dropped its DWS and Union Street brands as part of the restyle, despite DWS previously being its lead business. It also launched a revamped and unified Cloud Market on the same day.
According to numbers it shared with us, Giacom turned over £360m in its year to 31 March 2023 (with mobile, cloud and connectivity contributing £114m, £120m and £73m to the total, respectively).
That's a 56% pro-rated hike on the previous period, as the first full-year contribution from Giacom and Union Street swelled the top line. Organic growth for the year – and for each of the last five years – stood at around 13%, it told us.
"We're the one place to come for everything you need – cloud, comms and IT – to create brilliant solutions for your SMB customers"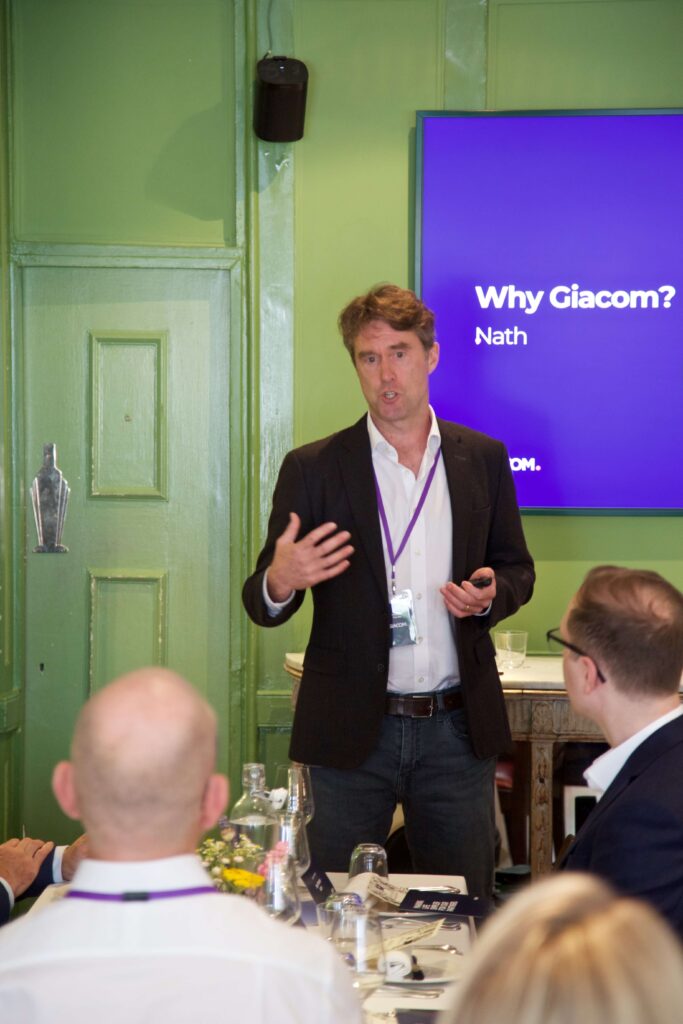 Quickfire Q&A with COO Nathan Marke
What's an obscure fact about Giacom, or you personally, most people won't know?
My wife and I sailed a small sailing boat together from Devon to Australia – it was an amazing couple of years.
Just how tough is it in the market right now?
Our sector is holding up remarkably well despite the obvious macro-pressures. Projects and recurring growth are there for partners who add value. However, while we haven't seen customer churn, we have seen an increase in subscription churn as customers tighten their belts – for example, companies may have given out mobiles and software licenses to everyone during the pandemic; owners are now reigning this in to ensure that every SIM and every license delivers value.
What bright spots are you seeing?
Cloud growth across the board remains very strong; we are seeing strong pipeline growth in connectivity as partners start to really push the switch off agenda with their end customers.
What's been your high point of the last 12 months?
The launch of our Unified Platform Experience, CloudMarket and our rebrand to Giacom – after two years of hard work internally we have delivered meaningful improvements to our partner experience, making us more simple to do business with.
Name one thing Giacom does better than anyone else…
One place to come for everything you need – cloud, comms and IT – to create brilliant solutions for your SMB customers.
What's been the biggest development or news story in UK IT distribution so far in 2023?
The launch of our Unified Platform Experience, Cloud Market 😊
Which technology area or vendor are you betting big on for H2 2023?
Azure; FTTP; security.
The analysts see distribution becoming increasingly characterised by cloud and marketplaces. Is that reflected in the evolution of your own business?
Absolutely. Cloud marketplaces serve a purpose and are really disrupting traditional distribution models. However they don't serve UK business well due to the lack of value added services that are key to making all these amazing SaaS solutions work for SMBs. Our focus is on bringing all the self-service simplicity of a cloud marketplace to SMBs, but to do this exclusively through our amazing community of resellers and MSPs, who bring all their smarts and services to the table.
Can you give us a prediction on how the distribution sector will evolve over the next 12 months?
A continued shift to online, to cloud marketplaces. Due to the complexity of IT for UK business, the supply chains that combine to deliver the most value-added will win.