Titan Data Solutions is gunning for £100m revenues after enduring a five-year baptism of fire its CEO admits it "did well to survive".
Founded in October 2018, the storage distributor has had to endure multiple catastrophic events in its infancy, including Brexit, lockdown, stock shortages, the collapse in Sterling and the war in Ukraine.
"There have been many times when I thought it was over," CEO Ben Jackson told IT Channel Oxygen as he showed us around Titan's Canary Wharf HQ on the last day of its quarter last month.
"We've done well to get to year five and survive all the situations we've had.
"Now we're ready to be a professional entity and get to £100m in the next four years with the existing vendor set we've got today. I'm hoping we can achieve that with a similar headcount to today."
"Covid nearly killed us, but Brexit was worse"
Counting Scale Computing, Seagate Systems, Quantum and Supermicro among its vendors, Titan entered the first national lockdown at the end of March 2020 with a business that was 50% focused on media & entertainment and 50% focused on on-premises storage.
"That's what nearly killed us in April 2020," Jackson said.
"There was no one creating content and no one on site to sign for any infrastructure.
"It crumbled overnight. We went from a record month of £1.7m in March [2020] when we moved into this building [Canada Square no 1], to £450,000 in April. At that point I thought it was curtains.
"But I've got to be honest – the realities of Brexit were worse than Covid. We had the Dutch warehouse and VAT number, and moved over £300,000 worth of stock, but still from 1 January to 18 January we couldn't use our VAT number so we were shipping DDP [delivered duty paid] across the whole of Europe and it was all getting stuck in different countries or offices. It was hell."
Titan has since figured how to ship DDP throughout mainland Europe from the UK using its Dutch VAT number, Jackson said. Mainland Europe generates a third of its revenues.
"I feel Titan have only experienced really dark times, but that's what's made us great. Now we're coming out of the dark times we're going to absolutely fly," Jackson said.
"Now we're coming out the other side"
Ranking 33rd in IT Channel Oxygen's Top 45 Must-Know UK IT Distributors, Titan's top line hit £20.8m in its fiscal 2023 and is on course to reach £32m in its fiscal 2024 and £50m the year after, Jackson said. It now trades with around 200 UK VARs a month.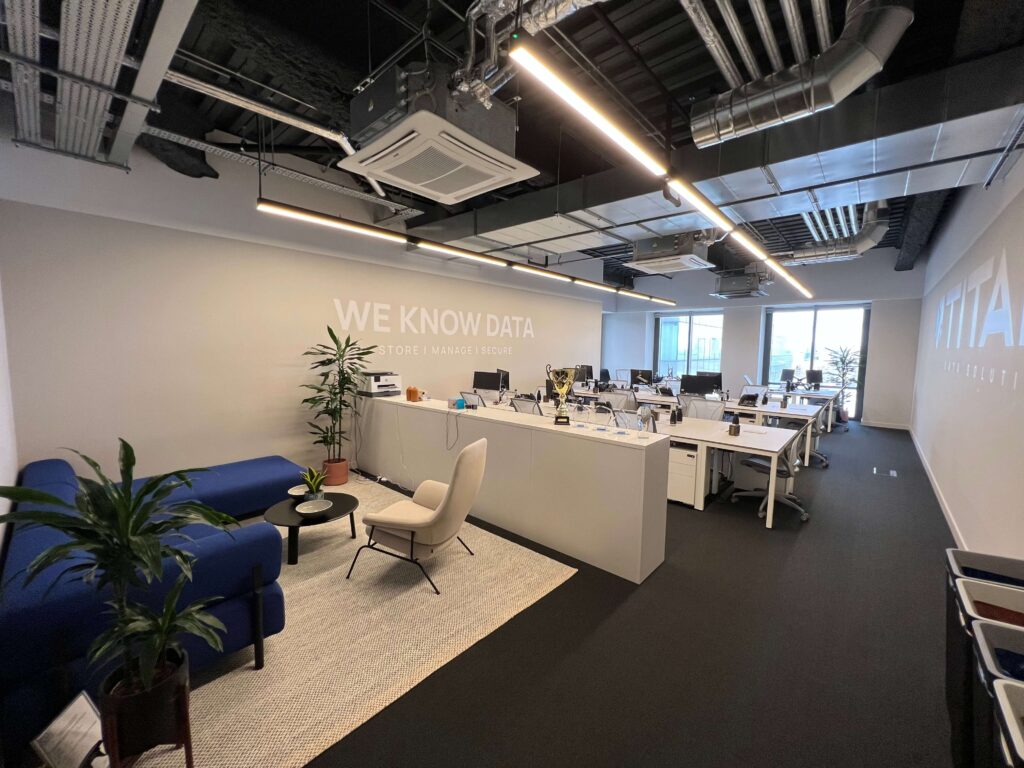 He pinpointed Hammer, which is now part of Exertis, as Titan's "inspiration" but stressed that Hammer now carries tier-one vendors such as Dell.
"Titan has tier-two vendors. They provide you more margin. They're going to win you more deal reg and ultimately more orders than HP or Dell, which are overdistributed," Jackson said.
Since its inception, Titan's focus has switched from data storage to data management, Jackson added.
"Our proposition is now more edge to cloud and all our vendors have accommodated us from edge to cloud as well. We've matured considerably as a business. We started off life as a data storage distributor. Now we're storing data, we're moving data and we're securing data.
"We've grown with some serious weights on our shoulders. We've watched the broadliners be super successful for two years due to laptops, networks etc, and now we're ahead of the curve.
"We had a niche proposition which was not successful at all, but now we're coming out the other side."
Titan has benefited from having a "patient" passive investor that "has afforded us to make a lot of mistakes", Jackson said.
"We've learned from those mistakes and are a lot stronger culturally as a result of that. That's what sets us apart from the competition," he said.