You know a warehouse is big when the trucks in use operate at the maximum height permitted under European law and the tour is given in buggies rather than on foot.
But Exertis' National Distribution Centre (NDC) isn't just big.
It's also a showcase for best-in-class performance in a sector increasingly defined by the ability to drop ship – as well as sustainability – its executives asserted as they gave IT Channel Oxygen a tour of the location yesterday.
The distribution giant claims to have made a £90m investment in the 465,000 sq ft Burnley hub, which is bigger than four football fields and taller than four double decker buses.
It replaced a network of seven smaller warehouses seven years ago.
The pressure is very much on as Black Friday looms. On an average day, the NDC handles 650 pallets and 500 SKUs. By the busy season in October and November, this will rise to 1,300 pallets and 800 SKUs. Warehouse staff numbers are set to swell from 400 to 650 in the same timeframe.
Pick of the bunch
Exertis' NDC investment includes the construction of a pick tower, which now handles over 70% of all orders. It has also made a £25m investment in automation.
It dubs the former the 'jewel in its crown'.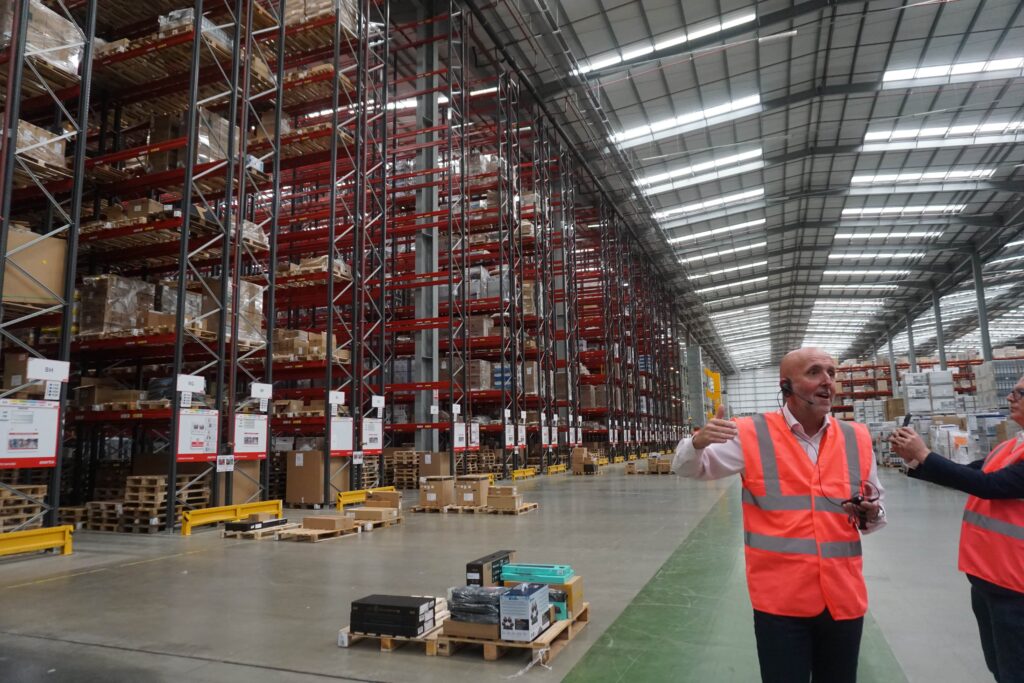 Showing IT Channel Oxygen and assorted other press around, Chief Logistics Officer Sion Wineyard (pictured above) explained that the new pick tower is designed to counteract the inefficiencies built into operating in such a large space.
A high percentage of the warehouse drivers "don't like heights" (at least to begin with), Wineyard said as he explained that their 'person-up' trucks regularly go above 18m when packing products in the 100-metre-long aisles. Any higher and Exertis would have to use crane technology.
"The easiest way to think about it is you now have to walk across five football pitches to deliver the services to your customer," he said.
"The pick tower both drives efficiency into our operation, which upholds the customer promise, but also enhances the customer proposition through our ability to consolidate orders through what we call kit to order, without the need to commit the stock at an early point."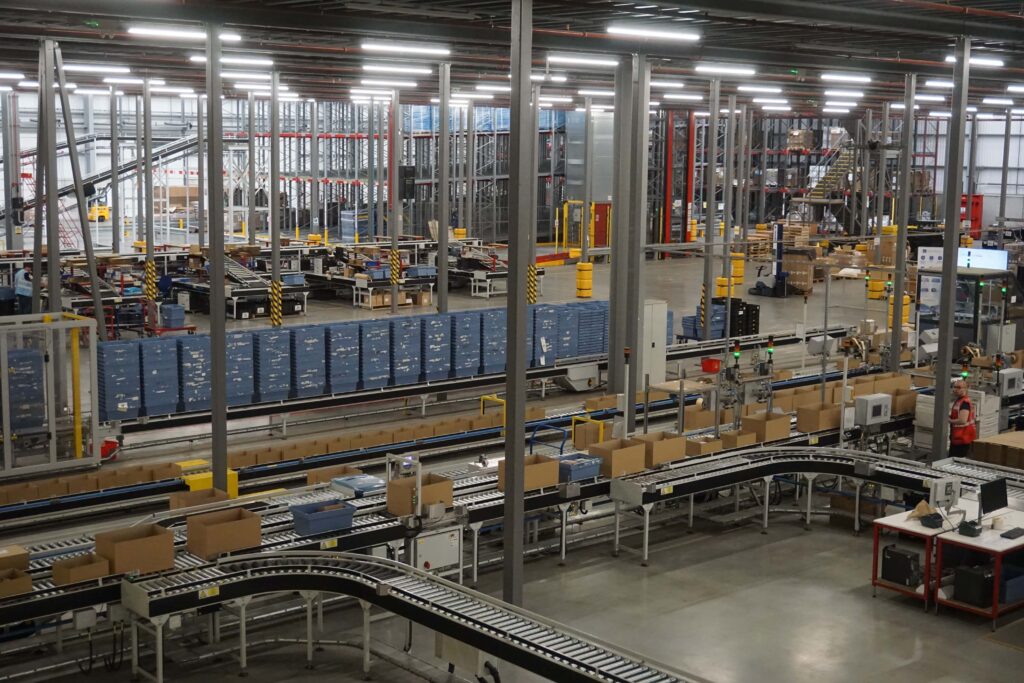 Exertis currently drop ships £212m of kit annually, up 25% year on year. But this figure is set to double as Exertis uses the pick tower (pictured above) to fulfil rising demand from etailers for this service, Chief Experience Officer Phillip Turner said.
"[Because of Covid], lots of the etailers extended their product portfolios because bricks and mortar was no longer limiting their business. They didn't want to sit on the stock, and as a result the shape of distribution has changed and we needed to adapt our capability. We're making a lot of investment in the pick tower and that is to maximise this changing market," Turner (pictured) explained.
"That pick tower allows the etailers [to differentiate] by having dynamic bundling. At any point during the weekend they can drive value and volume into customers by deciding they want to bundle two products and it no longer has to be wrapped and packed – it can be done on the pick tower."
Touching the void
The four-level, 25,000 sq ft pick tower features 2.1km of conveyer and 72 pick zones.
It has been instrumental in setting new standards when it comes to minimising "fresh air" shipments (namely the 'void' space in each delivery), Wineyard said.
An automated production line shrinks the packaging down to reduce the void space to an average of 8%, compared with an industry best practice of below 25%. A 'robo-wrapper' meanwhile, stretches the single-use plastic securing the products by 250%.
This is part of a wider sustainability drive by the distribution giant, which now claims to generate around 40% of its electricity via the 2,748 solar panels it installed on its NDC roof.
Exertis is also committed to transitioning its car fleet to electric vehicles. It has now installed EV charges at all of its facilities, including 14 at Burnley.
The £5.8bn-revenue distributor – which was profiled in the recent Oxygen 45 Must-Know UK IT Distributors – claims to ship 99.56% of its deliveries on a next-day basis, a commitment the recent investments underpin.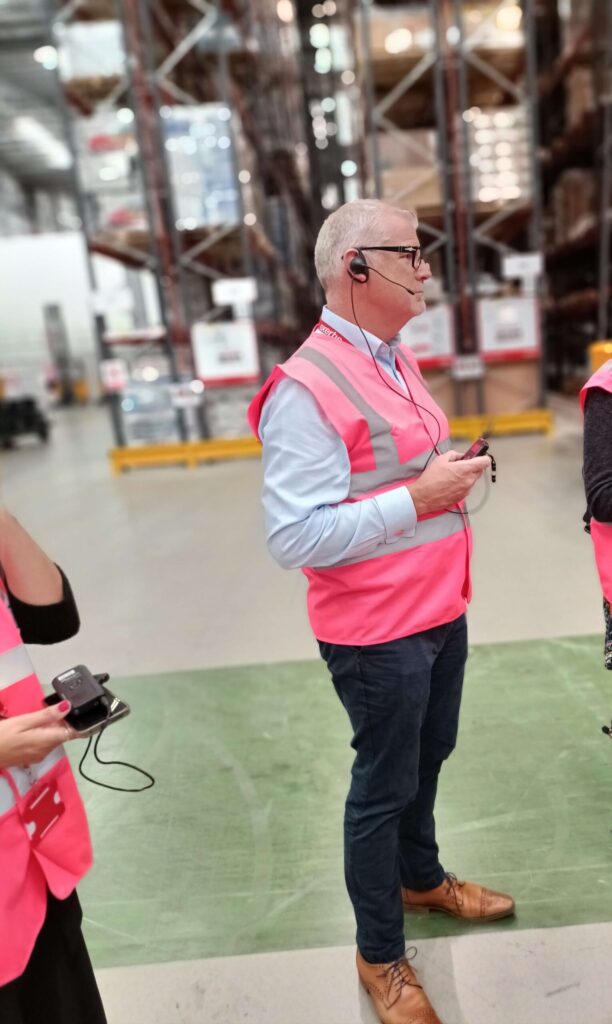 "This allows us to keep our promises today but also to deliver the capacity for our growth tomorrow," MD Tim Griffin (pictured above) said.
"This has not been a painless experience," he added.
"It's had more than one or two speed bumps as we've gone through that journey. But today we are delivering what I know to be best-in-class operational capabilities to our customers, which is all credit to Sion."