Cloud marketplace Pax8 ranked 15th in IT Channel Oxygen's 45 must-know UK IT distributors (Oxygen members can view its profile here).
We caught up with the US-based outfit's EMEA Chief Revenue Officer Phylip Morgan for an update on its local growth plans.
Hi Phylip. How large is Pax8 now in the UK and EMEA?
You raised your eyebrows last year at our ambitions plans – well, we're on track to deliver on those plans. Currently we have approaching 400 [UK] staff from the organic growth of Pax8 when we launched in Bristol in January 2020, and the four key acquisitions we've done since then: Wirehive out of Farnborough, Resello out of the Netherlands, TVG out of Riga and more recently Bam Boom Cloud.
What that looks like currently is 13 offices in the EMEA region. Stockholm and Frankfurt we opened ourselves, and others we inherited as a result of acquisitions. We have a team here in EMEA that speaks over 30 languages, which is a big thing for us.
Wirehive was a direct-selling Microsoft partner whose business you took direct. Are you doing the same thing with Bam Boom Cloud?
Brett and Vicky [Critchley] did an amazing job in a short period of time simplifying Microsoft Dynamics. They simplified it both in the way the applications are stitched together but also – and crucially – the go to market for it. Our ambition as we made clear to the market is take the Bam Boom playbook and democratise that for the channel. We have no intention of going direct. In fact we are right now in the middle of a project where we are offloading all our direct customers to MSPs. That's a programme that will run through until the end of 2024 because of the lift involved in tech services for some of our bigger MSPs to do.
What technologies or vendors are you betting big on for the rest of 2023?
We currently have AWS in North America, and I would love to have that here in EMEA soon. That's one thing we're excited about. At the moment we offer professional services on AWS globally. However, we don't have distribution of AWS products and services here. My ambition, as we execute on that plan with AWS, is to be in a place to offer AWS products and services and licenses alongside the professional services we offer today.
MSPs, ISVs and SIs being able to get the four hyperscalers from us is a world we dream about. We already have Microsoft, we partly have AWS and we have Adobe. Google is the last one. If we can get to a place where we have Google Cloud that would be fantastic.
There are challenges with a lot of these bigger companies in that they started without a channel model. So for them to create an indirect model and produce commercials that work for that is them having to reinvent themselves. The reality is that enterprise is contracting and SMB is vastly expanding, so I think the world favours the vendors who can create more of these channel and partner models to succeed.
What's an obscure fact about Pax8 most people won't know?
'Pax 8' stands for 'peace and luck', and our CEO John Street signs off every single email and communication inside the business with 'peace and luck, John'.
'Pax' is the Latin word for peace and '8' is the lucky number in South East Asia, where John worked when he was in the Peace Corps. He loves that part of the world. Plus, the domain Pax8 was available!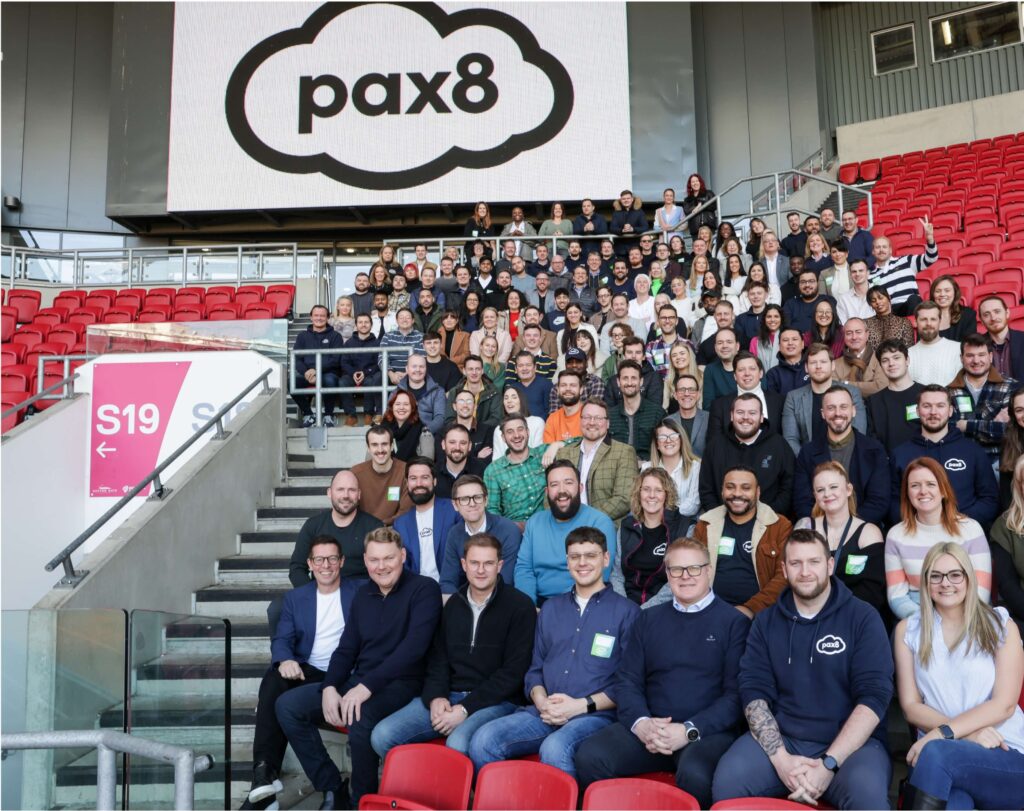 How tough is it in the market right now?
You've seen the raft of announcements over the last six weeks or so, particularly the distributors. We've not had to do any of that and are fortunate that we are continuing to grow. Right now, we have another 50 heads that we're hiring for. We are acquiring, and we are strong.
So as a business, we are in a good spot, but we are well aware that our customers and staff are really feeling the pinch.
What's been your high point of last 12 months?
The precision by which our team have executed the plan. To have had the team absolutely deliver on our numbers and to be ahead of target every single quarter despite the challenges…I'm really proud of them.
Name one thing Pax8 does better than anyone else
I think we do two things better than anyone else. What the channel wants from us is innovation and service. We are continuing to innovate – people call us a disruptor but we are actually just listening to customers and delivering what they ask. And so to do that you need the other element of it which is community. The three things we promise you day in day out are firstly, someone to look after your business who's passionate about growing it, secondly, we will give a bill you understand, and thirdly we will give you integrations to make your business grow like a rocketship.
How might the distribution sector might evolve?
I think it's going to get harder. In the same way as Darwin talks about evolution and adaption and natural selection, I would say in the same way it's not necessarily the biggest that will survive but those that are most adaptable to change.
What's been the biggest story to hit the IT distribution sector of this year?
It's got to be artificial intelligence. You've seen what Microsoft is talking about coming out of Inspire with Copilot, and I'm excited to see what future holds with that. We are at a unique time in the history of our planet. You can talk about the industry revolution, the PC revolution, the internet revolution, but AI is the biggest revolution we are going to see.